DESCRIPTION
Buddleja Trio is a composition full of impressive colours. Pink, purple and white flowers form a unique shape that in contrast with luscious green leaves, give an effect of an abundant bouquet. Buddleja, as a melliferous plant, attracts butterflies with its smell. It is a spectacle that your children will love to see. Colourful flowers are gathered in large bunchy blossoms. They spread in all directions, gracefully extending between the leaves. The shrub can grow up to 2 m. Blossom lasts very long - from June until first frost.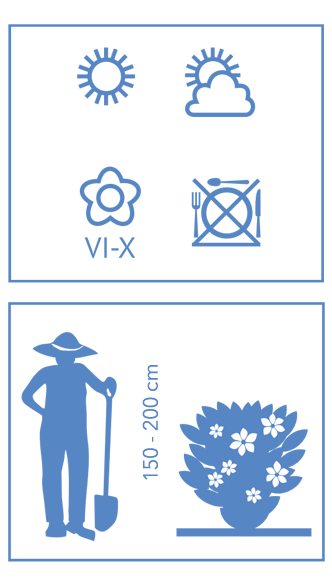 ADVICES
This shrub grows best in a warm, sunny position. The plant prefers drained, fairly fertile and moderately moist soil. The pH should be neutral or alkaline.

During the summer, the soil under the shrub should be shallowly aerated because the plant is sensitive to a lack of air. Also it is beneficial to mulch the soil around the shrub with a thin layer of mulching material such as pine bark, peat, leaves or sawdust. This will prevent weed growth, and heat loss. During drought, the plant should be watered. After flowering cut the faded flowers, and fertilize with a multi-component fertilizer. In the winter, cover the plant well. Pruning should be carried out in the spring, after the last frost. Reduce the shrub by half its height, but not less than 1 m from the ground. Very old stems should be cut 10 cm above the ground.