DESCRIPTION
Redrosier dogwood - this is a spreading deciduous shrub reaching 3 meters in height and 2 meters in width. The shoots that grow from the middle are straight and upright, and the outer shoots located peripherally, bow towards the ground. All one year old shoots take on an intensive, coral red tone. The smooth bark is covered with a waxy coating, giving it a sheen. With the arrival of spring, on the branches, green leaves appear that are wide ovate in shape, with pronounced lateral veins in 5-7 pairs. The shrubs bloom in July and have small, creamy-yellow flowers that are gathered in small, flat-topped clusters. The spherical, white fruits are about 7-8 mm in diameter, and are nicely presented against a background of green leaves and red stems. Dogwood looks especially beautiful in winter, when the leaves have already fallen-and the bright red stems contrast beautifully with the white snow.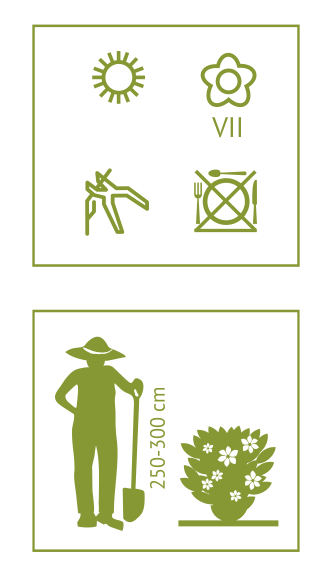 ADVICES
This shrub is best planted in a warm and sunny position. The ideal soil should be fertile, rich in humus, and relatively moist.
This Dogwood should be cut in early spring. Half of the oldest shoots should be cut about 10 cm above the ground, the rest of the shoots should be cut to a desired height. Also remove stems that are diseased, broken, crossing or too dense. Leave the previous year's long shoots that are the most intensely coloured.