DESCRIPTION
White Bigleaf Hydrangea- this is a showy shrub. Its greatest pride is the spherical, white flower clusters, which in summer practically cover the whole plant, creating a beautifully scented composition. This hydrangea grows up to 1.5 m in height. The leaves are oval in shape, dark green, and numerous, so that even outside the period of flowering, the shrub is very nicely presented.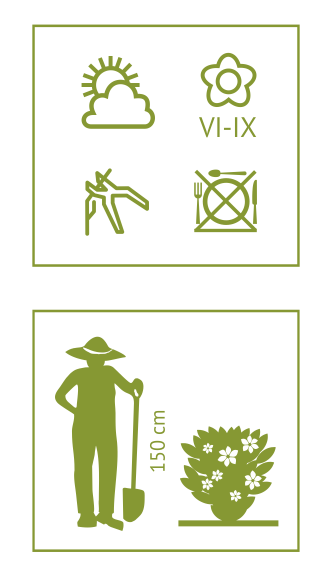 ADVICES
The plant is best planted in a semi-shade position, sheltered from the wind. The ideal soil should be fertile, rich in humus and sufficiently moist. The optimum pH is in the range of 4.5-5.5.
When planting a hydrangea dig a large hole. Partly fill the hole with a mixture of: acidic humus mixed with alkaline garden soil and compost, place the plant in the hole, and backfill with the mix, then firmly compact around the plant forming a shallow ditch that will allow retention of a greater amount of water. In summer, constantly water the shrub. In the spring, cut the dead, bent and weak (thin) stems. All woody stems, especially in the centre of the shrub, which do not have signs of growth, should be removed to allow sunlight and air circulation inside the bush. After, reduce the crown by a quarter, the shrub will then be the same size, but with much larger flowers and stronger, healthier shoots. Regular fertilization is recommended. Use special fertilizers intended for hydrangeas. In order to protect against frost, late autumn shoots must be covered with bark, soil or peat. In Early spring uncover the mound so that sunlight can reach the shoots.