DESCRIPTION
Snowberry - this shrub grows up to 2.5 m in height. Young stems are hairy, and more mature stems are bare, thin and slightly droopy. Small pink flowers collect at the ends of the branches, and bloom from June until September. At the end of August, very decorative spherical white fruit appear with a diameter of 1 cm.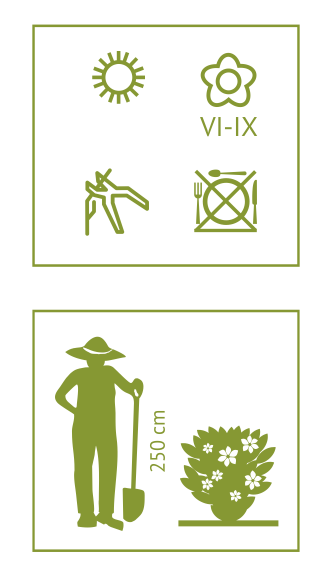 ADVICES
This snowberry grows equally well in sun or shade. There are no special requirements for the soil-it will grow even on sandy soils that are low in nutrients. It grows best in soils that are free draining, fertile, moderately dry or slightly damp.
Frequent cutting is recommended, as this species produces numerous root suckers and easily loses its nice shape. The best time for pruning is in late winter or early spring. To thin the plant, remove the stems of old, diseased and crossing shoots as well as unnecessary suckers. If the snowberry is in the form of a hedge, formative pruning could also be executed in the summer. The plant is resistant to air pollution.